Star C has big news: We have found a way to provide preventative medical care to our residents who don't have health insurance. But we need your help.
First, you may be wondering, "Why don't they have health insurance? What about the Affordable Care Act ("ObamaCare")? Shouldn't everyone have health insurance now?"
The Affordable Care Act (ACA) was designed to provide affordable options for health insurance coverage in conjunction with Medicaid expansion. The intent was that every person should either be eligible for a Medicaid plan or an ACA plan; however, not every state expanded Medicaid. In Georgia, there are people who make too much money to apply for Medicaid, but not enough money to apply in the ACA marketplace. This leaves a number of low-income individuals without any viable option for insurance coverage if their employer doesn't provide one. (Below figure uses numbers from Georgia)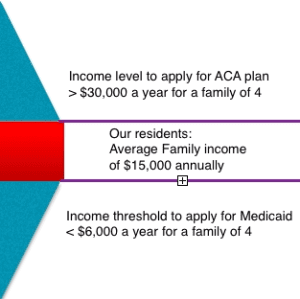 Thankfully, most children qualify for Medicaid. If they do not have coverage, we assist them in applying. Adults, on the other hand, often go uninsured for the reasons stated above. This results in a population of people who only go to the doctor or hospital when they are severely ill or for an emergency. Without an established primary care physician (PCP), patients like these turn to the Emergency Room or Urgent Care clinic. This type of treatment does nothing for the patient's long term health.
In an effort to provide preventative primary care to our residents, we have partnered with Oakhurst Medical Center, a Federally Qualified Health Center (FQHC). Oakhurst is federally subsidized and offers a range of services on a sliding scale fee basis (as low as $30 per visit). Through donations and sponsorships from supporters of Star C, Willow Branch residents who are uninsurable may schedule a Wellness visit at Oakhurst for only $5. This visit will establish the patient in the Oakhurst system with a PCP. The next time the individual is sick and needs medical attention, he will know exactly where and how to go, for an affordable price.
Tomorrow the first round of appointments are scheduled at Oakhurst especially for Willow Branch residents to get Wellness Exams!
We welcome and appreciate donations to this cause in any amount. Donate Here.