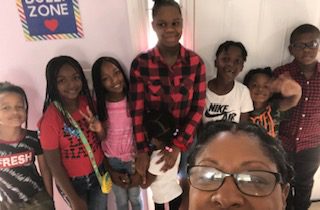 My name is Aleshia Brown and I am the new Program Director for Star-C Summerdale/Springview after school program and summer camp. I have been in the education/after school arena for 20+ years. My passion for learning and educating our youth shows in our enrichment programs (i.e., cooking school, arts and crafts, 3S News Show, etc.), STEM, social/emotional activities, tutoring programs, computer lab and reading lounge. Our program services the Atlanta Public School System and operates around their school calendar. The program hours of operation are from 2:45-5:30 and snacks are provided. In order for your child to participate in the after-school program and/or summer camp you have to be a resident at either Summerdale or Springview apartments and your child must be age 5-10.
We are currently taking applications. If you're interested in registering your eligible child in the program, please email Mrs. Brown at abrown@starc.org. To confirm eligibility and review the rules of the program also reach out to me and I will be happy to answer any questions.
I'm excited to be a part of the community and my goal is to help make a difference in thelives of our children. I feel if we all work as a team, the skies the limit.. The team being myself, parents, children and the school system.