Eviction Relief Fund Participating Properties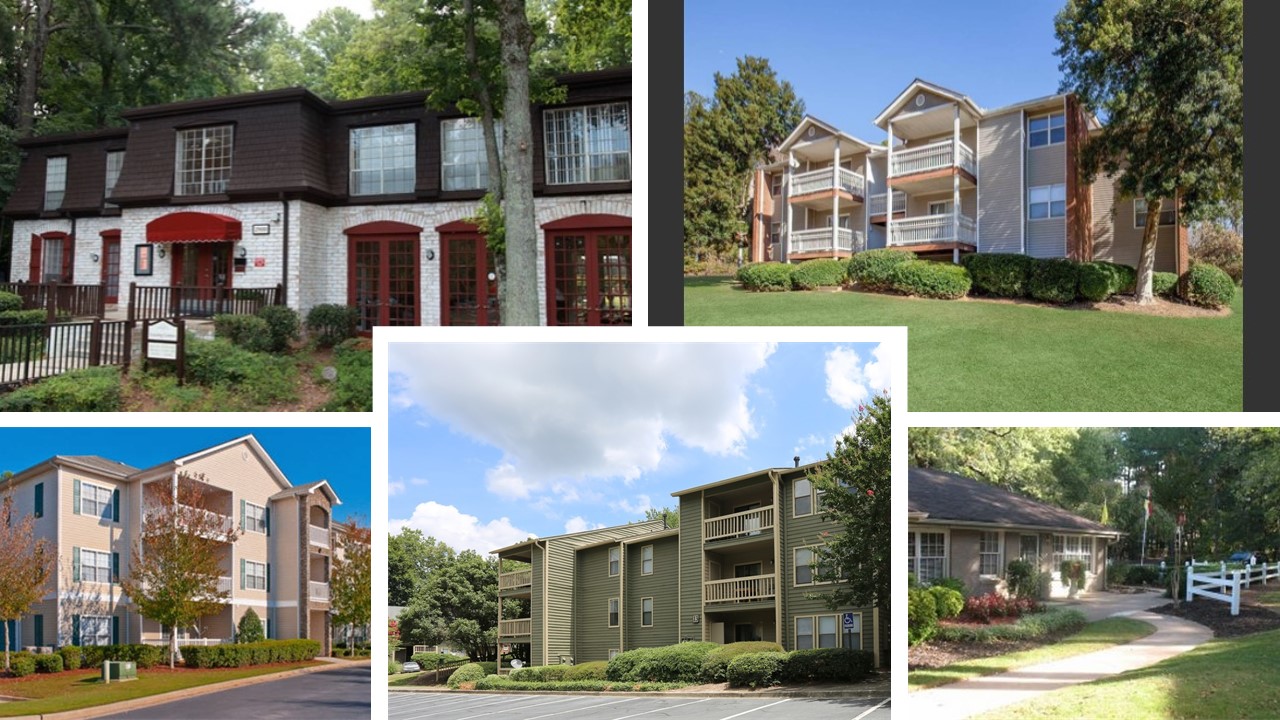 Star-C is a 501(c)3 nonprofit that partners with conscientious landlords to help reduce transiency (turnover) in affordable/workforce apartment communities in the Metro Atlanta area.   In this way, we help reduced transiency in high-need schools, which improves the individual and collective academic performance of the students there.
To reduce eviction-related transiency, Star-C created the Eviction Relief Fund, a rent matching scholarship that helps qualified residents timely pay their rents, making them eligible to stay in their homes. To date, Star-C's Eviction Relief Fund has partnered with 329 landlords encompassing 86,061 families. The list below includes all properties currently participating in the program. If your property is listed, please reach out to your landlords and send your assistance applications through them. If you are a landlord who would like to participate, please visit the Eviction Relief Page for more information! 
CLAYTON COUNTY
Arbor Gardens, Riverdale
Ascent @ Riverdale, Riverdale
Ashlar Townhomes, Jonesboro
Ashwood Ridge, Jonesboro 
Avenue 33, Stockbridge
Bradford Ridge, Forest Park
Brooks Crossing, Riverdale 
Brookstone Apartments, College Park
Dahlridge Apartments, Atlanta
Fieldstone Geln, Jonesboro
Flat at 1885, Lake City
Forest Creek 
Highland Willow, Riverdale
Laurel Pointe, Forest Park 
Legacy at Riverdale, Riverdale
Level a Mt. Zion, Morrow 
Marbella Place, Stockbridge
Nirvana at Riverdale, College Park
Overlook Apartments
Park at London, Ellenwood 
Park  Walk Apartments, College Park
Parkside Crossing, Forest Park
Pine Brooke Apartments, Riverdale
Pine Brooke Apartments, Riverdale
Regal Forest Apartments, Morrow 
Reserve at 2070, Morrow
Retreat 138. Stockbridge
Rivers Edge, Jonesboro
Scarlett Place, Jonesboro
Silver Springs, Jonesboro 
Spring Lake, Morrow
The Flats at 1885, Lake City
The Life at Pine Grove, Riverdale
Willow Park, Forest Park 
Wynthrope Forest
COBB COUNTY
23 Thirty Residence, Smyrna
300 Riverside, Austell 
6118 AA Apartments , Austell 
Admiral Quarters Apartments, Smyrna
Amber Grove at Olley Creek, Marietta
Arium Cumberland, Marietta
ARIUM on Bentley, Marietta
Ashford 75
Austell Village, Austell
Azalea Springs, Marietta
Azure at Riverside, Austell
Balfour Marietta, Marietta
Balfour Woodcrest, Marietta
Balfour Woodland, Smyrna 
Bellingham Apartments, Marietta
Belmont Crossing, Smyrna
Birch Landing ATL Apartments, Austell
Brighton Way, Smyrna
Brix on Beech
Castlebrook, Kennesaw
Chroma Park West, Austell 
Chroma Park, Austell 
Cobblestone Apartments, Marietta
Concord Crossing, Smyrna
Crestmont Apartments, Marietta
Crestwood Park Apartments, Marietta
Cumberland Crossing, Marietta
Dwell at 1794, Marietta
Dwell at 750, Marietta
Dwell at the Villa, Marietta
Element 41, Marietta
Flats @1204, Mableton 
Forest Glen, Austell 
Forest Ridge, Marietta 
Georgian Oaks 2 Apartments, Smyrna 
Georgian Oaks Apartments
Georgian Village, Marietta
Harmony Meadows, Marietta
Hunters Grove, Austell 
Ivy Ridge, Marietta
Kingsley Village, Austell 
Knox Landing Apartments, Marietta 
Liberty Point, Marietta
Northside Apartments, Marietta
Orchard Springs Townhomes, Marietta
Parkview Apartments, Austell 
Preserve at Terrell Mill, Marietta
Princeton Place, Marietta
Reserve at Sweetwater Creek, Austell 
Rockledge Apartments, Marietta
Rosemont Cityview, Marietta
Sierra Forest, Mableton
Somerpoint Apartments, Marietta
Sterling Riverside Townhomes, Austell
Stratford Ridge, Marietta
Ten35 Gateway, Marietta
The Arbors at East Cobb, Marietta
The Arbors at Smyrna, Smyrna
The Bentley at Marietta, Marietta
The Crossing Apartments, Marietta
The Eddy at Riverview, Mableton
The Greens at Windy Hill, Marietta
The Hills at East Cobb, Marietta
The Knolls, Marietta 
The Life at West Cobb, Marietta
The Waverly, Mabelton 
Trellis Apartments, Marietta
Twelve Oaks Apartments, Marietta
Upland Townhomes, Mableton
Veritas at East Cobb, Marietta
Westminister Square, Marietta
White Oak, Mableton
Windwood Apartments, Austell
Wistena Place Apartments, Mableton 
Wyndcliff Galleria, Smyrna
DEKALB COUNTY
13Ten, Stone Mountain
1500 Oak Apartments, Clarkston
4371 Glenwood, Decatur
Arborside Apartments, Decatur
Ashland Pines. Stone Mountain
Austin Oaks, Decatur
Avondale Townhomes, Decatur
Brentwood Apartments Dekalb
Cambridge Heights, Lithonia
Candler Village Apartments, Decatur
Chelsea Place, Lithonia
Clarkston Station, Clarkston
Columbia Mill, Atlanta
Columbia Village, Decatur
Covington Glen, Decatur
Decatur Gardens, Decatur
Derrydown Apartments, Decatur
Eagle Springs Apartments, Stone Mountain
East Perimeter, Decatur
Eastwyck Village, Decatur
Edgewater Vista Apartments, Decatur
Forest at Columbia Apartments, Decatur
Harvard Place, Lithonia
Heritage Reserve, Decatur
Hidden Woods, Decatur
Kristopher Woods, Clarkston
Mirador at Idlewood, Clarkston
Mirador at Peachtree, Atlanta
Mountain Oak, Stone Mountain
Orchard Walk Apartments, Decatur
Panthersville Villas, Decatur
Park @ East Ponce, Stone Mountain
Park Estates, Decatur
Polo Club, Lithonia
Rainbow Forest, Decatur
Redan Cove, Decatur
Redan Village, Decatur
Reserve at Brookhaven, Brookhaven
Retreat at Stone Mountain
Shadow Trace, Stone Mountain
Silver Oak, Clarkston
Springdale Glen, Clarkston
Stonecrest Mill, Lithonia
Swift Creek, Decatur
The Ashberry Apartments, Decatur
The Commons at Briarwood Pk, Brookhaven
The Haverly at Stone Mountain, Stone Mountain
The Lakes at Indian Creek, Clarkston
The Quarry Apartments, Lithonia
The Quarry, Lithonia
Tucker Square Apartments, Stone Mountain
Walden Brook, Lithonia
Wildwood at Stone Mountain, Stone Mountain
Willow Branch Apartments, Clarkston
Willow Creek Apartments, Clarkston
Windwood Forest Apartments, Lithonia
Woods @ Peppertree, Decatur
Woods Of Decatur, Decatur
 DOUGLAS COUNTY
Arbor Place, Douglasville
Brook Valley, Douglasville
Golden Valley, Douglasville
Lakeside Apartments, Lithia Springs
Place at Midway, Douglasville
FULTON COUNTY
4375 Apartments, Fulton 
Alison Court, Atlanta 
Appletree Townhomes 
Arcadia at Parkway, Fairburn
Ashford at Spring Lake, Atlanta 
Balfour East Lake, Atlanta
Bedford Pine, Atlanta 
Biscayne Apartments, College Park
Brentwood Apartments, Atlanta
Brookside Park, Atlanta 
Bullock at Habersham Apartments, East Point 
Central Park Apartments, College Park
Central Villa Apartments, Atlanta 
Chelsea Gardens, College Park
Circa & Ecco Apartments, Sandy Springs
City Views Preserves at Burney Park, Atlanta
Colonial Square, Atlanta 
Columbia Citihomes, Atlanta
Columbia Commons, Atlanta
Columbia Crest, Atlanta
Columbia Estates, Atlanta
Columbia Grove, Atlanta
Columbia Park Citi Residence, Atlanta
Crogman School Lofts, Atlanta 
Crystal at Camp Creek, College Park
Crystal at Cascade, Atlanta
Crystal Heights, Fulton
Crystal Townhomes, Atlanta 
Dodson Courtyard Apartments, East Point 
Dwell at the View, Atlanta
Elite at 285, Atlanta
Elite at City View, College Park 
Embarcadero Club, College Park 
Enclave Residences, College Park 
Forty Three 75 Apartments, Atlanta
Gardens at Washington Pk1, Atlanta 
Gardens at Washington Pk2, Atlanta 
Gardenwood Residences, College Park 
Gene's Rental, College Park
Glenrose Gardens, Atlanta
Golf Vista, Atlanta
Grove Park Renewal, Atlanta 
Harmony Plaza II, Atlanta 
Hidden Cove Apartments, East Point 
Hidden Pine of Atlanta, Atlanta 
Hidden Village, Atlanta
Kinstone River, Atlanta
Lakeshire Village, East Point
Manchester at Mansell, Alpharetta
Marketplace Square, East Point
Mechanicsville Cityside, Atlanta
Mechanicsville Crossing, Atlanta 
Mechanicsville Family, Atlanta
Mechanicsville Station, Atlanta
Overlook Ridge, Atlanta
Parc at Dunwoody, Atlanta
Parc at Dunwoody, Dunwoody
Park at Greenbriar, Atlanta
Park Vista, Atlanta
Parks at Greenbriar
Parkside at Mechanicsville
Pavilion Place Apartments
Phoenix Place Apartments, East Point 
Pleasant Hill Townhomes, Atlanta
Poplar Springs, College Park
Regal Heights, Atlanta
Reserve at Riverdale, College Park 
River Crossing at Roswell, Roswell
Royal Oaks, Atlanta
South Hampton Estates, College Park
Springview Apartments, Atlanta
Stanton View Apartments
Summerdale Apartments, Atlanta 
Sunny Cascade- Elite at City Park,
Sylvan Hills, Atlanta
The Ashford @ Stone Ridge, College Park
The Crossing at Holcomb Bridge, Roswell
The Parc at 1875, Atlanta 
The Park at Palatine, College Park 
The Woods at Shannon Lake, Union
Townhomes at Pleasant Hill Rd, Atlanta
Vesta Garden Apartments, College Park 
Vesta Gardens 
Villages at Castleberry Hill, Atlanta 
Villas at Princeton Lake, Atlanta
Yorkminster Square, Atlanta
 GWINNETT COUNTY
Maddox Street Homes, Lawrenceville
Retreat at Arc Way, Norcross
Knollwood Park, Lawrenceville
 SPALDING COUNTY
St Phillip Villas, Griffin